Sunday, April 15, 2007
Analyzing Song #1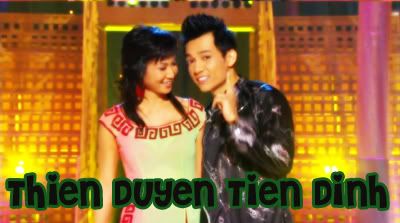 Thien Duyen Tien Dinh by Tu Quyen and Luong Tung Quang
(Paris By Night 85 - Xuan Trong Ky Niem)

English Translation
At the beginning of the year; all the leaves and flowers bloom.
I want to ask how my love life will be.
Being poor therefore not asking for much,
I only need someone to love me.
If that person fit then please tell me.
Out of the twelve zodiacs you are a goat.
Hold my hand and I will tell you about your fate.
Meeting the person of your dream.
Having lots of kids.
If you want to know; I will lead you.
What is the home town of that person,
is he rich or poor and how old is he?
He is about twenty something.
So familiar you would know him right away.
He's not far away because that person is me.
The way you read is oh so smart.
Fate has already decided on our love.
Then the wedding day will be very fun.
Not very rich neither am I poor.
Nobody in the world will laugh at us.
Getting marry when the year start and
having a new member when the year end.
Analyzing the song
Thien Duyen Tien Dinh is a sweet 'love at first sight' story told by two "lover" - Tu Quyen and Luong Tung Quang - and how fates brought them together when one wants to know about their own fate. Luong Tung Quang is the fortune teller who discovers his lover through trying to read about her fate. The story brings Tu Quyen and Luong Tung Quang together after he sees her; you can say its love at first site. She began to ask him about her life and after many question he tells her that the person of her dream is no one else but him. I thought that it was simply cute when he kneels down to her. She later agree that he is the person of her dream and indeed will marry him; even if he is poor, but all she wants is for someone to fall in love with her inner beauty.
Thoughts
What an excellent song choice for a tet show! I loved the song because of the cute acting from both Tu Quyen and Luong Tung Quang. Tu Quyen has impeccable comedic skills, priceless facial expressions, and a sweet singing voice. The lyrics of Thien Duyen are also very sweet and cute. The song "sounded" good and in fact, the lyrics are quite simple and it is a great thing. It's an amazing song for tet show because it show how our older generation loves to go see a fortune teller.
Labels: Analyzing song, Luong Tung Quang, Tu Quyen
9:00 AM
RELEASING SOON
COMING VERY SOON
- HUYNH GIA TUAN : DRIVEN (CD)

- LOAN CHAU : DIEU UOC (DVD)
- TRAN THAI HOA : BAO GIO BIET TUONG TU (CD)

- TIEN DUNG : QUA TIM KHO MAU (CD)

- KIEU OANH 2 : NO DUYEN (DVD)
- THE SON : THE BEST OF THE SON (KARAOKE)

- DUONG TRIEU VU : THIEN DANG DANH MAT (CD)

NEWEST RELEASE
- VARIOUS ARTISTS : LIEN KHUC QUE HUONG
- PARIS BY NIGHT 89 : LIVE IN KOREA (DVD)

- DUY TRUONG : MINH OI, TUI PHAN (CD)

- NGUYEN THANG : MY STORY (CD)
- MAI QUOC HUY : HANH PHUC QUANH DAY (CD)

RECENT RELEASE(S)
- TRINH LAM : TAI SAO? (CD)
- BANG KIEU : HOAI CAM (CD)
- MINH TUYET - O NOI DO…NGUOI O LAI (CD)
- LIVE SHOW HOAI LINH 3 (DVD)
- PARIS BY NIGHT 88 - DUONG VE QUE HUONG (DVD)

- TRAN THU HA - TINH CA QUA THE KY (CD)
- CHUYEN NNN : GA TRONG NUOI CON (STORY DOUBLE-CD)
- THUY NGA KAREOKE VOLUME 54 : PBN 83 NHUNG KHUC HAT AN TINH
- SEMI-FINALS : GIAI BAN KET (DOUBLE-CD)
- FINALS : GIAI CHUNG KET (DOUBLE-CD)
UPCOMING CD RELEASE(S)
SOLO:
- THE BEST OF QUANG LE – TAM SU NGUOI HAT BAI QUE HUONG
- TU QUYEN : EM VAN YEU
- BAO HAN : 15 NAM CA HAT
- NHAT TRUNG : HAT LOI TINH YEU
- BANG KIEU : LINH HON DA MAT FT. MINH TUYET & VAN QUYNH
- LOAN CHAU : 7TH SOLO
- ANGELA TRAM ANH : "UNTITLED"
- NGOC LIEN : "UNTITLED"
- QUYNH VI : "UNTITLED"
DUET:
- TAM DOAN & QUANG LE: TAM SU NGUOI LINH TRE
- MINH TUYET & LUONG TUNG QUANG : "UNTITLED"
VARIOUS:
- LAM PHUONG : CD #1
- LAM PHUONG : CD #2
UPCOMING DVD RELEASE(S)
- BAO HAN : 15 NAM CA HAT
- NGUYEN HUNG & THUY VAN : DA VU QUOC TE 2
- NHUNG TINH CA XU HUE
- DEM TRONG CAN NHA HOANG (MOVIE)

- TONG TONG NGUYEN VAN THIEU & NEN DE NHI CONG HOA
UPCOMING DVD KARAOKE RELEASE(S)
- KARAOKE MINH TUYET 2
- PARIS BY NIGHT 75 - VE MIEN VIEN DONG
- PARIS BY NIGHT 78 : DUONG XUA
- PARIS BY NIGHT 79 : DREAMS
- PARIS BY NIGHT 81 : AM NHAC KHONG BIEN GIOI 2
- PARIS BY NIGHT 82 : TIEU VUONG HOI
- PARIS BY NIGHT 84 : IN ATLANTA
UPCOMING DVD CAI LUONG/HAI KICH RELEASE(S)
CREDITS
ABOVE INFORMATION MAY BE INCORRECT TITLES & RELEASE DATES MAY BE UNACCURATE SORRY FOR ANY INCONVENIENCE
FOR MORE INFO. PLEASE CONTACT THUY NGA OR VISIT THEIR'S WEBSITE